Welcome to the
Young Israel of West Hartford
The Young Israel of West Hartford is warm diverse and vibrant Modern Orthodox congregation. We aspire to inspire personal growth and social responsibility as well as to strengthen our connection to our heritage, the Torah, our tradition, our Mesorah, and our homeland, the State of Israel.
As a synagogue and as individuals, we seek to cultivate an environment that values each member of our community and connects across generations from babies to bubbies.
More than just a synagogue, the Young Israel of West Hartford is a warm and loving community seeking to inspire individuals and families of all ages, backgrounds, levels of education and observance. Please join us for a Shabbat, a service or a program, and we are confident that you will find a warm and welcoming home.
Check out some of our upcoming programs, exciting past events, learning opportunity and youth programs!
For more information, click here or contact us at info@youngisraelwh.org.
Click here for the full Shavuot 5777/2017 Schedule
We also are excited to welcome our Shavuot Scholar-in-Residence, Rabbi Yosef Bronstein.
Rabbi Yosef Bronstein resides in Washington Heights, NY with his wife, Batya, a psychologist, and children, Talya and Yehuda. He is a professor of Jewish Philosophy at Yeshiva University's Stern College for Women and Isaac Breuer College of Hebraic Studies Honors Program where he spreads his passion for the philosophies of Rav Kook, Rabbi Soloveitchik and the Lubavitcher Rebbe. In addition, he is pursuing a PhD in Talmudic Studies at the Bernard Revel Graduate School of Jewish Studies. He received semikha from RIETS, an MA in Talmudic Studies from Revel, and completed RIETS Wexner Kollel Elyon. While in Israel, he studied at Yeshivat Kerem B'Yavneh, Yeshivat Har Etzion and Merkaz HaRav. Most importantly, his favorite color is purple.
Rabbi Bronstein will be delivering our 25th Annual Yahrzeit Memorial Lecture on June 6th, the second day of Shavuot.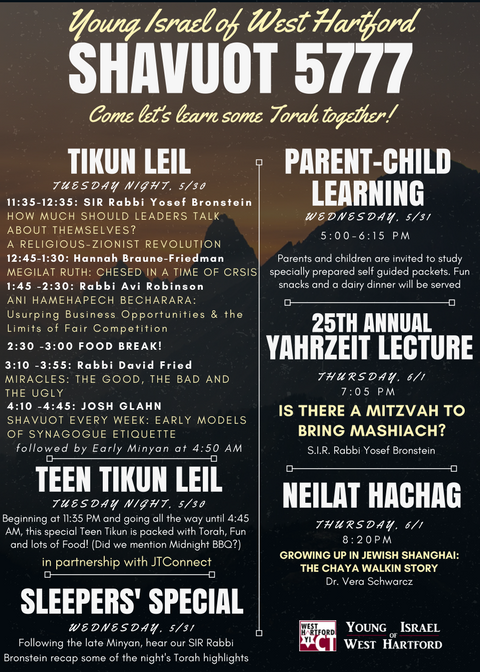 Meet the Musmach: YIWH Edition!
Meet the Musmachim: Rabbi Tuvia Brander
Rabbi Tuvia Brander '12YC '15R, rabbi of Young Israel of West Hartford, Connecticut, shares how RIETS prepared him to tackle the many different aspects of communal leadership that synagogue rabbis in smaller communities take on. Meet the incredible musmachim who will celebrate their ordination at the RIETS Chag HaSemikhah on March 19.
Monday, May 29 2017 4 Sivan 5777