Kiddush
Sponsor a Kiddush or Seudah Shelishit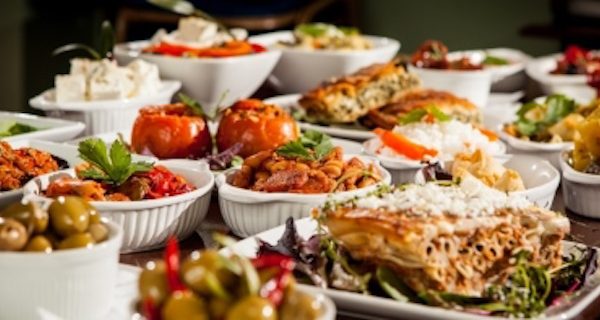 The custom of sponsoring a kiddush is a terrific way to share a simcha or remember a loved one. Kiddush sponsorship helps to strengthen your connection to the community while enhancing the community's Shabbat experience.
Kiddush sponsorship requests must be submitted to the Kiddush Coordinator at least three weeks prior to the desired date. To secure a date, sponsorship checks must be received by the synagogue office at least one week prior to the kiddush. Checks should be made payable to Young Israel of West Hartford, with 'Kiddush' in the memo.
Kiddush sponsors are responsible to provide a complete list of all the sponsors' names, a description for the shul announcement and menu choice (see below) by the Monday of the week of the sponsorship.
To reserve a date, email Kiddush Coordinator, Ilana Bernstein at
kiddush@youngisraelwh.org or call 860-922-0448.
Sponsored Kiddush preparation is coordinated by the Kiddush Committee and is included in the Kiddush fee. Preparation includes setup, cleanup, standard food items and paper/plastic goods. Sponsors may augment Kiddush with additional food or specialty paper goods, in consultation with the Kiddush Coordinator, and with the Kashruth approval of the Rabbi. Sponsors may also use an outside caterer, who must have a recognized hashgacha and mashgiach, and must be approved by the Kiddush Coordinator . There is no Kiddush fee for a Catered Kiddush, but there is a Facility Usage Fee, as indicated below. Sponsors are responsible for ensuring that the caterer coordinates and provides all setup & cleanup, and all food & service items for the Kiddush as well as excess garbage removal.
Alcoholic beverages are not included in any kiddush packages. Sponsors may donate alcoholic beverages to the Young Israel for kiddush. All alcoholic beverages must come sealed, must conform to the guidelines outlined in the CRC Liquor List and be confirmed by the Rabbi. Please note that we do NOT serve any alcohols matured in sherry, sauterne, port or other wine casks or those with special "finishes" or multiple "maturations" that include wine.
All Kiddushim at the Young Israel of West Hartford are strictly peanut-free. Please be sure to inform any caterer of this restriction.
Facility Usage Fees

Members
Friday night dinner – $100.00 Fee
Shabbat Lunch – $100.00 Fee
Both Friday night dinner & Shabbat Lunch – $150.00 Fee
Both Catered Kiddush & Shabbat Lunch – $100.00 Fee
Kiddush or catering for Associate Members – Additional $50.00 Fee
Non Members – Additional $150.00 Fee

Kiddush Sponsorship Options

Standard Shul Sponsored Kiddushim include:
4 bottles of soda and 2 bottles seltzer, 2 bags of potato chips, 6 boxes of cookies, 1 bag of pretzels, 5 salads (total of 10 lbs and tuna and egg salad is recommended as two of the options)
Options
Description
Starting Price
Basic
All of the above, plus
Crackers (6 sleeves)
1 extra bag of pretzels
Specialty cookies
1 Fruit Platter
1 container of hummus
2 more bottles of soda
$250
Deluxe
All of the above, plus
2 additional salads
Whitefish or herring (1 lb)
1 more fruit platter
Tortilla Chips and salsa
$350
Super Deluxe
All of the above, plus
2 specialty salads
additional baked goods
Vegetable Platter
2 additional Dips
$450
Please note:
Simcha cakes may be added to any standard Young Israel sponsored kiddush and must be bought by the sponsor in coordination with the Kiddush coordinator.
Sponsors are responsible to notify the Kiddush Coordinator of the approximate number of expected extra guests to ensure that appropriate quantities are ordered.
Hot items may be added to any sponsored kiddush and coordinated by the Kiddush Coordinator. In most cases each item is $100 added to the cost of the kiddush, although prices may vary.
Policy Updated January 2019
Upcoming Sponsored Kiddushim
For the sake of brevity, this list only includes a rolling year's worth of sponsored kiddushim. If you would like to know about the availability of a date that is more than one year out, please contact the Kiddush Coordinator.
Upcoming Kiddush Calendar
Tue, December 6 2022
12 Kislev 5783
Shabbat Info
This week's Torah portion is

Parshat Vayishlach
Friday Night
Candle Lighting

: 4:02pm
Mincha/Maariv

: 4:07pm
Shabbat Day
Eruv Status
---
Today's Zemanim
Alot Hashachar
5:34am
Earliest Tallit
6:08am
Netz (Sunrise)
7:03am
Latest Shema
9:22am
Zman Tefillah
10:09am
Chatzot (Midday)
11:42am
Mincha Gedola
12:05pm
Mincha Ketana
2:24pm
Plag HaMincha
3:22pm
Shkiah (Sunset)
4:20pm
Tzeit Hakochavim
5:06pm
More >>
---
Tue, December 6 2022 12 Kislev 5783